Top Ten: Embarrassing Travel Moments in Italy
It is only fair that I include my personal top ten embarrassing travel moments after poking fun of others.  Ready or not here they are, and a third of them have to do with poo.  I apologize ahead of time.
10.  On a night train from Brindisi to Venice (when I was a teva wearing college backpacker) a very intoxicated older man slipped into our sleeping car and proceeded to try and feel me up.  I gave him the benefit of the doubt due to his state the first time and politely moved his hand.  The second time he grabbed my butt I kicked him in the face.
9.  I found a passport on the ground in Rome and spent the next several days feeling smug wondering if poor Sheila ever made it out of the country.  When I went to check in at my next accommodation, I realized I had left mine in the lobby of our previous B&B.  Not so smug anymore was I.
8.  Being related to my parents who bum-rushed the train from Rome to Florence, pushing and shoving everyone out of their way (with their luggage) in a hurry to find seats together.  They figured out too late that their seats were actually assigned.
7.  I didn't realize there is etiquette on a train when it comes to using the loo.  I found myself taking a poop in the middle of a station as the train made a painfully long stop.
6.  At a restaurant I had to use the one and only bathroom on the premises (and yes, it was a #2 again).  To my horror I absolutely could not figure out how to flush the damn thing.  I gave up and went to leave….bumping into a very handsome gentleman heading in to use the facilities after me.  Check please!
5.  Too late I realized there was not a square of toilet paper in the bathroom and I was without my trusty multi-purpose guidebook pages.  I had no choice but to use my favorite pair of polka dot underwear.
4.  After enjoying a splurge at a restaurant in Rome I went to the bathroom to…..just kidding!  I looked over the bill and saw that the tip was included so I did what I had been told to do and rounded up the total.  The waiter seeing that I had not given a second tip started throwing a tantrum and flapping the receipt all over the restaurant.  Horrified I threw him some money and ran out.  To this day I have no idea what happened.
3.  I rented my car…..for the wrong month.  Worse yet, it was for my tour group.
2.  I blame Rick Steves for this one.  On my backpacking college trip I took his Italian Phrase Book which had a fun section with things to say that were a little off the cuff; fun slang and curse words to break the ice with the locals.  One word we really latched on to was stronzo, the definition said it meant a dried hard piece of poo (I again apologize.  I'm a mother of 3 and a nurse, poo is a way of life for me).   We yelled it out at random times, more so when intoxicated.  One night, while watching the World Cup with some local friends we had recently made, we used our new word.  The crowd became silent and all eyes were on us.  Evidently dried hard piece of poo is putting it nicely.  We never uttered that word again.
1.  My friend and I decided to try and take an earlier train out of Rome but the line for tickets had taken forever.  We had no choice but to run for it (backpacks and all).  Just as we were about to climb the stairs to our platform, my friend slipped and fell backwards.  The weight of her pack prevented her from getting up and she literally looked like an upended tortoise.  I got her back on her feet and we went screaming up the stairs, taking them two at a time.  Red faced and breathless we were greeted with disapproving stares.  To my confusion, there was no train on the platform and everyone seemed to be just milling about.   I noticed the reader board.  One word.  Ritardo.  Late.  Aahh Italy.
Joining up again with the fabulous writers at yeah write. Click the button below to read some truly wonderful writers and don't forget to return on Thursday to vote for your five favorite posts.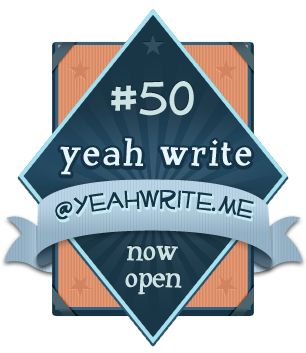 I love feedback, so leave me comments!
Copyright 2012   Andi Brown,  Once in a Lifetime Travel
Comments
comments